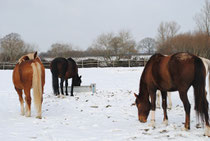 Welcome to my very first blog! It is my intention to share with you in detail some of the amazing interactions which go on here at Intuitive Horse (I.H.) between people and horses as well as some insight into the individual horses progress. Many of the horses here have come to me (Emma) for some form of rehabilitation over the years and have ended up becoming permanent residents.
I like to work as holisticly as I can to help them return to health. I have tried many different therapies for different problems over the years and continue to educate myself in new therapies aswell as the ones I use regulary. I have been particulary impressed with something called zoopharmacognosy which I am currently training in. This is the self selection and medication of plant materials, herbs and essential oils for animals. When given a choice the horse (and other animals) know exactly what they need to help themselves and they self dose. It can help the animal on an emotional/behavioural and physical level. As we have domesticated animals it is important to provide them with what they need. 
Another keen interest of mine is in behaviour and I like to find ways of interacting with the horses without using superficial aids. This way it allows the horse to have choice and communicate their responses back to me in our interactions. This can take some time depending on the horse but the journey is incredible and not only do you help the horse but you learn alot about yourself in the process! This approach ties in very well with the equine assisted self development work we do here.
I have a herd of 13 horses, 10 are mine and 3 are on livery with me (they belong to other people but I help care for them).
I allow my herd to run as one big herd and to be just horses! I had all their shoes taken off 3 years ago and now have an equine podiatrist tend to their feet, the improvement in their physical healing has been incredible to watch, I will post some individual stories about this soon.
Since allowing the horses to run as a big herd I have also witnessed big changes in their personalities and confidence in a very positive way.
Due to the nature of my work with Intuitive Horse I like to allow the horses to be as ferral as possible by providing them with a stimulating environment which allows them to roam and be inquisitive in, horses are incredibly inquisitive!!. I feel this allows a very authentic relationship to arise between the horses and my clients both when working in the ring with a loose horse and when we work with the whole herd. 
This winter is the first winter all the horses here have gone without wearing rugs. I have been so impressed at how well the horses have coped even when the temperature reached -9 a few days ago. There are a few horses here who wouldn't have been able to cope with that a couple of years ago due to being stressed but they are doing just fine with it now. They are all getting lots of extra hay to eat which helps keep them warm and they are all incredibly fluffy!!