One of my first experiences with horses displaying copying behaviour was quite a few years ago now. I knew youngsters would watch their elders in a herd environment and copy and learn, as we do when we are young but my experience with two of my horses amazed me.
My youngster- Jacy Blu was 2 years old at the time and I was interested to try and 'join up' with him. For anyone not familiar with horses reading this, join up is a term used by the famous horse whisperer Monty Roberts. His method of join up is through communications that mimic horse behaviour. When you  achieve join up with the horse it chooses to be with you and then follows you as you move around without a halter and rope.
I began this training with Jacy Blu. It was my first attempt with him and guess what….. I didn't achieve join up. I felt a bit despondent as I had had visions of him immediately wanting to come up to me and be with me and that certainly did not happen. I tried to tell myself it was ok and only the first attempt, it would take a while.
Mean while I noticed my big grey gelding- Harvey had been watching us from his stable window the whole time. Harvey is much older than Jacy Blu and bosses him around in the field.
I decided to turn Jacy Blu and Harvey into the field with the other horses. First of all I led Jacy Blu out and off he went.  Then I led Harvey out. Harvey is a very easy horse to handle, a bit of a gentleman you might say but as I went to let him loose as we walked through the gate he immediately pushed back past me and started trotting a large circle around me. Surprised by this behaviour as it was completely out of character I stood there saying Harvey what are you doing???!! It then dawned on me a couple of moments later that he was circling me but giving me all the body language cues that say I am ready to come in and join up with you. So I invited him to come in towards me which he did instantly. I couldn't believe it, I had never done join up with him before but here he was instigating it with me after watching me with Jacy Blu. I then started walking and he followed me all around  with his head right by my shoulder. Excited by what had just happened I eventually walked back into the field with Harvey. As I went to leave I noticed Jacy Blu standing further down the fence line with his head over the fence watching me and Harvey. 
Some 20 minutes or so later whilst I was talking to the mechanic who had come to fix the tractor I happened to glance over to the field and noticed Jacy Blu was still standing by the fence and he was looking straight at me with his head up. As I finished talking with the mechanic I went to leave and as a last minute thought I decided to go and see Jacy Blu. As I got to the gate he started to walk over to me straight away. He came over and I felt an urge to try join up with him again so I gave him the signal to invite him to walk with me and he did, all over the field. He stopped when I did and walked when I did, he never left my side. I couldn't believe it!! It seemed like he had watched Harvey walking with me and had understood the communication I had been trying with him earlier and here he was now doing it with me. I was elated.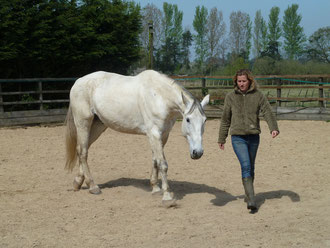 Another demonstration of copying behaviour that I have witnessed was with my horse Harvey, working with a lady on one of our retreats. Whilst in her session with Harvey, which she had gone in to explore building a relationship with she started to wonder what it would be like to see things from a horses perspective and started mimicking some of their behaviours. Harvey watched her roll on the ground and then got down and rolled next to her. Here is the clip when it happened.
Feel free to share your experiences with copying behaviour, comment or ask questions!