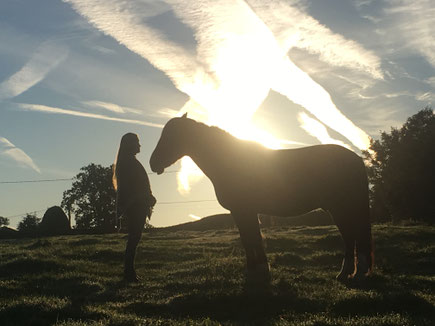 WHY I STOPPED RIDING HORSES!
One of the participants currently doing our online course- Rewilding with my Horse recently asked everyone in the group whether they were still riding or not or whether they were considering giving it up as she is.
I decided to share my journey as to why I no longer ride horses and why I prefer just being with them from the ground. 
The course isn't necessarily about not riding but this has been part of my journey to rewilding with my horses. 
After my 18 month old colt died from an anaphylactic shock to penicillin whilst being treated for symptoms of Strangles- a highly contagious upper respiratory tract infection, life with horses changed for me. Jake, my colt, had been born to my beautiful mare Ebony and so we had known each other from day one and he meant the world to me. Previous to his death I had great hopes for us riding and competing in showjumping together when he was older which was a passion of mine.
The experience of losing Jake was very traumatic and left scars, scars that would change my whole perspective on horses over time….
Gradually I started to explore working with horses in a different way, initially through rehabilitation work with them and then in the way I do now at Intuitive Horse. This process led to me starting to see them differently….
Spending time with them just hanging out in the arena with no agenda was weird at first but would feel liberating in some ways also because I didn't have to get the horse ready and tacked up, we could just go and hang out.
The horse was loose and we both just did as we pleased in the space. I had to let go of controlling their every move and I observed how with each of my horses I did this with; they would take their time to move around the space. At first I think they were as lost I was, their conditioning was so deep they had come to expect that something would happen when they stepped into this space be it ridden or lunged.
Over time as I was riding less and less I saw they were more confident moving around the space, rolling, lying down, sleeping, what ever their mood was and I enjoyed this to. It was a time to relax and I would come away feeling closer to them than if we had been riding.
As I reflect on this I think it is because I wasn't making any demands on them and therefore they could meet me in the space and we could have more of an equal exchange.
This progressed to me spending time out in the fields with them, again interacting, sitting and lying down with them. Others would ride by near the field and be baffled by me lying on the floor with the horses, especially later on when I started taking clients out to the herd to do this with me.
At first I was very self-conscious of what other riders would be saying because that just isn't what you normally do with your horse but the desire was stronger than the inner critic.
The final decision to give up riding was hard because I was playing an old pattern of belief in my head around what others would say if I stopped riding like, won't your horse be bored or what a waste of a horse not being ridden or when are you going to get your horse going again….
The progression to not riding took me a few years and was a gradual shift from riding in tack to riding bare back and teaching others how to ride bare back to riding tack-less.
This journey was interesting because to be able to ride tack-less and do it in a way that allowed the horse their voice rather than being so highly trained they wouldn't know how to put a foot wrong if they tried, I had to learn how to trust myself as well as the horse. This is something I realised I didn't have to fully commit to and work on when riding with tack as I was relying on the bit to control the horse and the saddle to give me better balance.
Riding tack-less I was stripped bare of all control as I knew it and this was my biggest challenge personally. I will share the story of the horse I went on the journey with this with in a separate post as it is too long to write about it here.
What I will say though is once I had gone through that I realised I had just as much pleasure with horses from the ground, in fact I had more.
I explored taking the tack up to the horses in their stables and in an open space and their reactions were consistent. When I really paid attention, they were showing signs of resistance, sometimes obvious and sometimes much more subtle. I realised if they had the choice they didn't really want anyone on their backs, they just wanted to be a horse…. Giving them their voice in this way meant I had to listen, I couldn't deny the signals they were showing me.
This was part of my rewilding journey with them. I had to listen to myself and the horses. I thought I understood horses but realise I wasn't listening to myself let alone them even though all my intentions were well meant.
This dramatic change in my relationship with horses snowballed in to many areas of our relationship making me question everything I was doing with them....
If this has resonated with you in some way just know it is ok not to ride horses despite what everyone around you may say but what I will say is if you aren't riding does your horse have a stimulating environment to live in? If they are stabled 23 hours a day due to no turnout then riding or walking them out will be essential but if you can find a stimulating environment for them to live in with company of others they will do just fine! 
I'd love to know if you are thinking of giving up riding or maybe you don't ride either? Please comment below and let me know where you are on your journey.